Pamela A. Powell, DMD (Doctor of Medical Dentistry)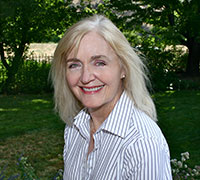 Dr. Pamela Powell has been in dentistry for over 40 years and has been successfully treating TMJ disorders since 2000. Her clinical practice is now devoted entirely to this care and the treatment of sleep apnea and snoring. Dr. Powell's postdoctoral continuing education in TMJ disorders, occlusion, aesthetics, and rehabilitation includes courses from Las Vegas Institute for Advanced Dental Studies (LVI) and Myotronics, as well as numerous didactics and seminars. Dr. Powell was a Magna Cum Laude graduate from Tufts University, School of Dental Medicine in 1981. Before attending dental school, she earned a bachelor's degree in dental hygiene from the University of California, San Francisco in 1973. Dr. Powell is committed to ongoing study of neuromuscular dentistry and obstructive sleep apnea through postgraduate courses, study clubs, journals, reference books, research collections, and patient treatment.
In addition to her private practice, Dr. Powell is the Co-Site Director for Idaho State University Family Dentistry in Meridian, where she enjoys attending weekly didactics presented by other faculty colleagues addressing all facets of general dentistry and specialty issues. To cite a few examples of her professional affiliations, she is a member of the Southwest Idaho Dental Society, the Idaho State Dental Association, the American Dental Association, and the International College of Cranio-Mandibular Orthopedics (ICCMO). She was the Peer Review Chairperson for the Southwest Idaho Dental Society from 2005-2011, as well as serving as the President from 1995-1996. Dr. Powell was honored to be named as the 2007 Idaho State University Health Care Hero-Educator Honoree by Idaho Business Review.
In 1983, Dr. Powell was the only licensed female dentist practicing in the state of Idaho. She has been treating and helping patients since 1973, when she began practice in California working with a periodontist and teaching at Cabrillo College. She is happy to now exclusively treat TMJ disorders and sleep apnea. Because she practiced general dentistry for so many years, Dr. Powell is able to work closely in support with your dentist, family physician, pain management physician, sleep physician, neurologist, ENT, chiropractor, and physical therapist to achieve the most physiologic, "jaw-friendly" results. Dr. Powell firmly believes that she would not have the depth of understanding and capability to treat these disorders if she had not been an inquirer and studied dentistry with an open mind and worked with thousands of patients for over 40 years. She loves what she does and gets the results you deserve!
Dr. Powell is married and has five adult children, with twins still at home. When she has a spare moment, she enjoys spending time with her family, preparing meals with them, baking, jogging the foothills of Boise, snow skiing, and anything chocolate.
TREATMENT PHILOSOPHY:
Dr. Powell believes that whenever possible, non-surgical, non-medicated, measured, conservative treatment is in the best interest of TMJ disordered and Sleep Apneic patients.
---
Susanna Norris – Office Manager and Neuromuscular Technician
From 2001 to the present, for over 12 years, Susanna has been involved with Dr. Powell, taking continuing neuromuscular education and perfecting her abilities with the instrumentation utilized to diagnose the reason for our patients' pain. She is a certified neuromuscular technician. More recently, Susanna has attended additional week-long courses in obstructive sleep apnea, snoring, and how mild to moderate sleep apnea can be treated with oral devices while still managing muscle/joint pain issues. A didactic presented by one of the cardiologists further confirmed the horrific impact of nightly sleep apnea on our heart and blood vessels. Additionally, Susanna is working towards an Associate of Arts degree in Health Care Administration.
Susanna finds that the most rewarding part of her job is being the "voice" of our office. She personally takes and returns all calls, and based on her education and experiences, she knows how to offer explanation and encouragement to our patients. She is grateful for the opportunity to play a role in our patients' journeys toward healing and getting their lives back. Susanna is proud that we offer only the best, scientifically-based treatment and care in a safe environment that gets results.
Born and raised in Boise, Susanna is married to her high school sweetheart. Together, they are raising Winree, their four-pawed baby. They just built a new home and are now working on their "house beautiful" project. Susanna is the "movie queen" – just ask about the latest premiere! She is a fan of UFC (mixed martial arts fighting), and she enjoys road trips and concerts.